At Amsted Seals, we take pride in being at the forefront of design and manufacturing technology. Our ongoing investment in a dedicated additive manufacturing lab is one example of the innovations we employ to increase the efficiencies and effectiveness of our operations.
Additive manufacturing, also commonly known as 3D Printing, is a process where layers of material are added on top of each other to produce a three-dimensional print. Products are typically designed using 3D modeling software (CAD) which an additive manufacturing machine reads to produce the print. At Amsted Seals, we also have the ability to laser-scan an existing physical product, creating a digital copy that can be transformed into a CAD model.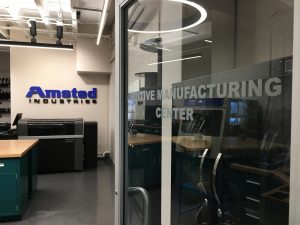 The lab, located in our manufacturing plant in Petersburg, VA, supplies all of the Amsted Industries business units with 3D-printed products. The collaborative space boasts a variety of additive manufacturing capabilities that allow us to continually enhance and accelerate product development, process development and prototyping. The types of additive manufacturing we currently employ include:
Material Extrusion

Material Jetting

Directed Energy Deposition

Powder Bed Fusion

Vat Photopolymerization

Binder Jetting
"The lab has been steadily growing over the last three years. Today we have 11 machines and make 100+ prints per month, and that is continuing to increase," said Tim Liebe, Additive Manufacturing Engineer at the Petersburg plant.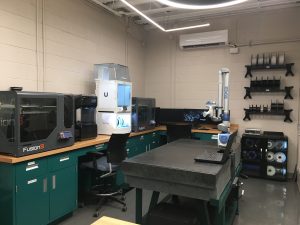 The speed and low cost of additive manufacturing allows Amsted Seals to utilize the technology for a variety of purposes, including design optimization, rapid prototyping and manufacturing support. Here are a few examples of how we use additive manufacturing:
Minor design refinements may be easier to understand on a 3D print than on a 2D drawing or computer simulation. This is particularly helpful across different departments, when it's not necessarily an engineer who is reviewing the designs.




Another use for additive manufacturing is confirming through the 3D-printed product that the design comes out how expected and will fit into the system before manufacturing a functional prototype. This can save on tooling costs if the design needs to be further refined.




The manufacturing process can also be supported with additive manufacturing, producing any jigs or fixtures that may be needed. Occasionally, it can even be used for the tooling itself.
As we continue to develop our product lines in the commercial vehicle space, this innovative process allows us to produce the highest quality parts and helps to reduce costs and lead times.